ACRAL PEELING SKIN SYNDROME
This child, seen below, was brought to Dr. Signore's Tinley Park dermatology office for PERSISTENT DRY AND RED PEELING SKIN on the hands, fingers, and toes. She developed this rash before kindergarten and she still has it seven years later. She was previously treated by two general dermatologists and one pediatric dermatologist with topical steroids, topical Retin-A (tretinoin), and 40 outpatient ultraviolet light phototherapy sessions WITHOUT SUCCESS. She was brought to Dr. Signore for classical homeopathic medical treatment for her skin condition. She underwent a two hour homeopathic consultation visit in which Dr. Signore asked the child and parent many questions about her rash and also about her general health. Clinically, this patient appeared to have ACRAL PEELING SKIN SYNDROME, a chronic skin condition for which there is no specific treatment. On the basis of this patient's unique and individualized symptoms, Dr. Signore treated her with HOMEOPATHIC SILICA twice a day by mouth. Dr. Signore chose this remedy because the child's personality and physical characteristics most closely fit those of the homeopathic constitutional type known as SILICA. SILICA PATIENTS are often very CHILLY individuals who like to wear warm clothes and hats. They also may have white spots on their fingernails along with painful cracks (fissures) on their fingertips. SILICA patients often have constipation and problems with increased sweating (HYPERHIDROSIS), as well as problems with foot odor (BROMHIDROSIS). Finally, SILICA patients are very meticulous. Additionally, they may develop inflamed pimples on the cheeks which leave post-acne scarring.
The photo below shows the same child 19 weeks after beginning HOMEOPATHIC CONSTITUTIONAL MEDICAL TREATMENT for her ACRAL PEELING SKIN SYNDROME. As you can observe, she has MUCH LESS REDNESS AND PEELING OF HER FINGERS AND PALMS. (The only other treatment prescribed was over-the-counter AquaGlycolic Hand and Body Lotion which she applied only to the hands. (NOTE: This patient's toes cleared up completely, even though she did not apply the AquaGlycolic lotion to the toes. This is highly suggestive that the homeopathic SILICA treatment contributed to this patients' healing of her hands, fingers, and toes.) The only adverse effect the patient experienced was drowsiness after taking homeopathic SILICA in the morning. The patient then began taking her homeopathic remedy at night and she had no further daytime drowsiness. Interestingly, while this child was being treated with HOMEOPATHIC MEDICINE for her skin condition, her constipation, excessive sweating, and foot odor also IMPROVED. Her difficulty focusing and paying attention while doing homework also IMPROVED GREATLY during her homeopathic medical treatment. Sometimes other seemingly unrelated medical issues may improve during homeopathic treatment of skin diseases. Thus, homeopathic constitutional treatment CAN be HELPFUL for CHILDREN WITH SKIN DISEASES. The EARLIER in life a child's skin diseases are treated with homeopathic medicine, the MORE READILY they seem to IMPROVE.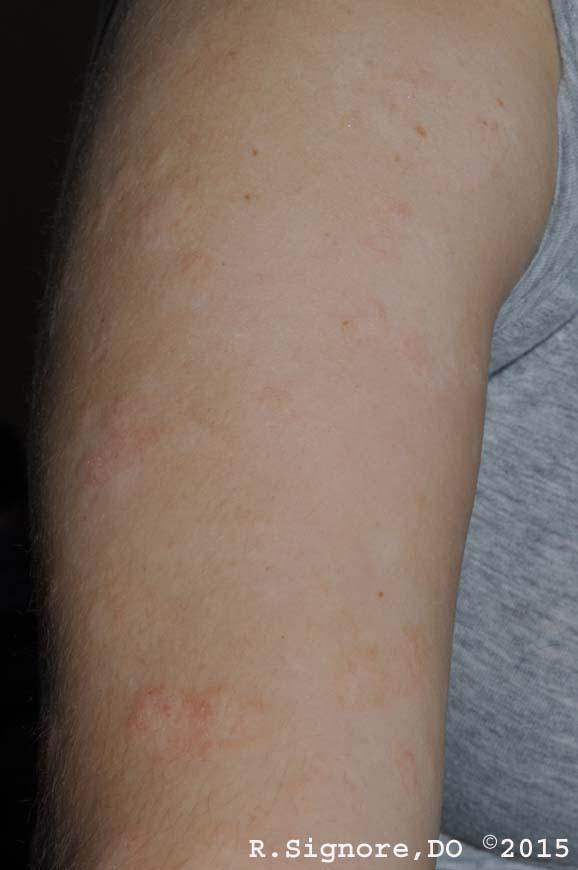 A young woman with WIDESPREAD ATOPIC ECZEMA scheduled a homeopathic consultation with Dr. Signore. She had suffered with ATOPIC ECZEMA since childhood. She was getting married in six months, and she needed treatment for her very itchy skin condition. The above photo shows her upper arm with dry, itchy, and scaly patches & plaques of ECZEMA.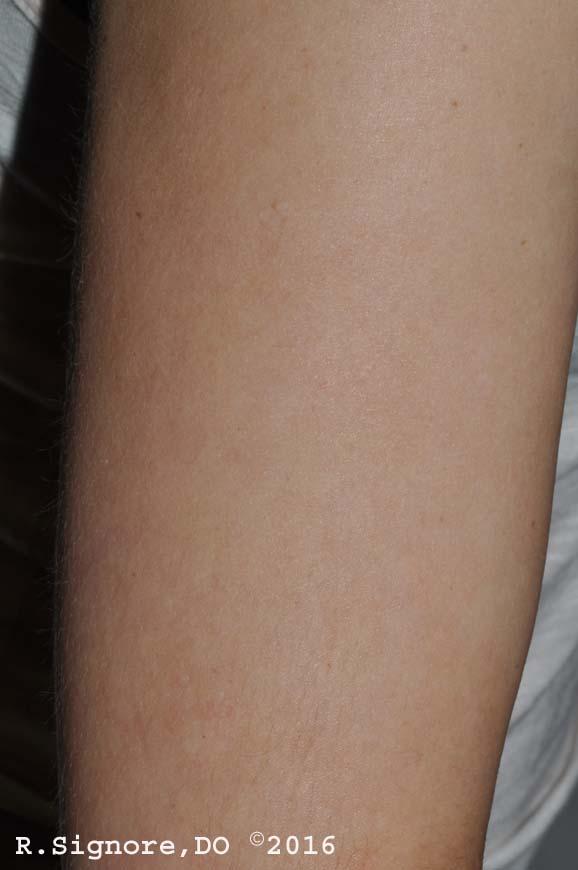 This is the same young woman, SHOWN ABOVE after 20 weeks of CONSTITUTONAL HOMEOPATHIC MEDICINES, prescribed for her individual and characteristic symptoms. As you can see, her ATOPIC ECZEMA is 98% CLEAR. Her SKIN IS NOW MUCH SMOOTHER AND SOFTER. She will now be able to wear her wedding dress, as her shoulders, arms, & upper chest have healed nicely. Homeopathic medicines are manufactured from natural substances, such as minerals and plants. Homeopathic medicines are regulated as drugs by the U.S. Food and Drug Administration. They are manufactured using Good Manufacturing Practices according to the Homeopathic Pharmacopoeia of the United States.
This very nice patient came to Dr. Signore's dermatology office in Tinley Park because she noticed WHITE PATCHES on her hands and elbow. (See photo above.) These white spots appeared shortly after she experienced a humiliating incident where she was rudely treated. Dr. Signore diagnosed this patient as having VITILIGO. Vitiligo is a very difficult to treat autoimmune skin disease characterized by loss of skin pigment. Dr. Signore treated her with a homeopathic natural medicine, which was derived from a flower, because it precisely fit her symptoms of suppressed anger after humiliation. She took the homeopathic medicine by mouth each night for about three months. (Please see BELOW to see how she improved):
The above photo shows this same VITILIGO patient after taking her HOMEOPATHIC medicine every night for several months. You can see that her white skin patches on the hands have greatly improved and her VITILIGO is MUCH LESS VISIBLE. The VITILIGO patch on her elbow (Not Shown) has also improved considerably. (Note: no topical creams or ointments were used.) Additionally, even her husband noticed that her mood was much better. Also, she was much less stress-out over little things that formerly would have upset her. Since starting her homeopathic medicine, this patient noticed her headaches were much less severe and her loose stools had completely cleared up. It is common for seemingly unrelated medical issues to improve during treatment with homeopathic medicine. It is important to treat VITILIGO as soon as it appears to help prevent the white patches from spreading and possibly prevent new patches from occurring. Also, it appears that VITILIGO may be more difficult to treat the longer it has been present.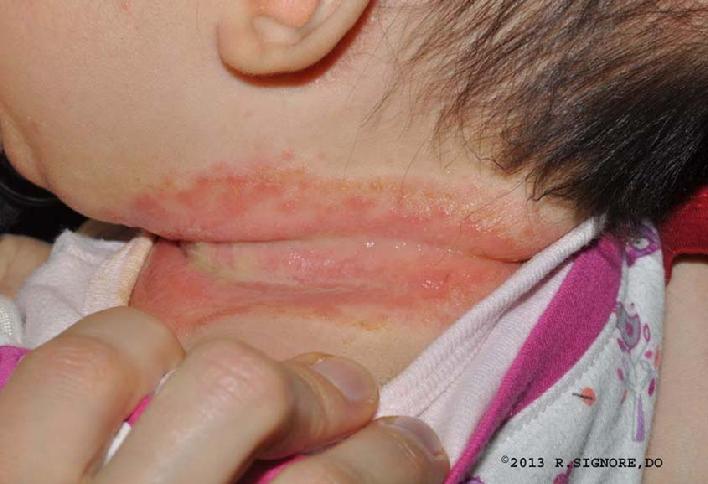 This happy and smiling infant was brought to Dr. Signore's dermatology office with a widespread red and scaly eczema-like rash on the scalp, neck, underarms, and legs. The rash exudated a yellow thick drainage which soaked through her clothes. The parent requested natural homeopathic treatment. Dr. Signore took an extended history and first prescribed a homeopathic remedy which matched the infant's unusual skin drainage (made from natural carbon). 10 days later, the yellow drainage was much improved. Dr. Signore then prescribed another homeopathic remedy (made from natural sea salt). The homeopathic remedies were given by mouth, were easy to swallow, and tasted pleasant to the infant.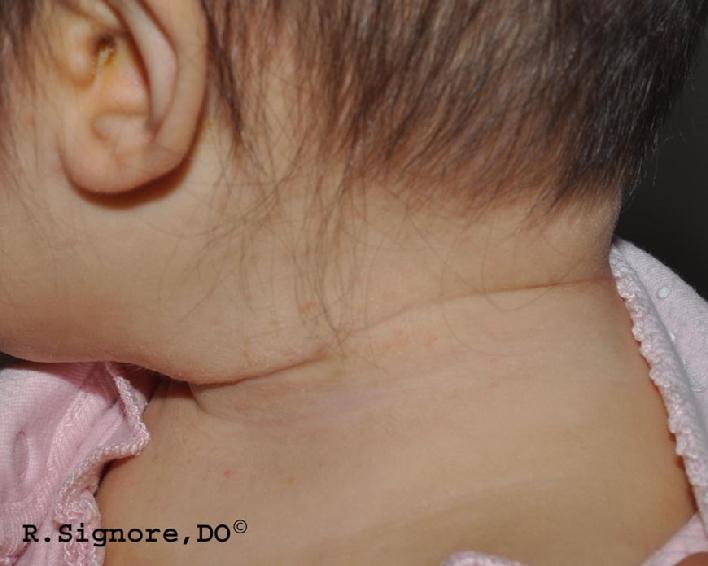 This is the same infant, shown above, after 12 weeks of homeopathic natural treatment. The patient's eczema on the neck has healed nicely. Notice that the eczema behind the ear and on the scalp has also healed. Her sleep at night has also improved & she wakes up much less frequently. Note: No steroids, antifungals, or antibiotics were used.
This young child had a rash for six months prior to coming to Dr. Signore's dermatology office. He was diagnosed as having MOLLUSCUM CONTAGIOSUM, a contagious eruption caused by a virus. He was fearful of painful treatments, so his parent chose natural homeopathic medicine. He took several homeopathic remedies by mouth, which helped a little, but his molluscum infection persisted.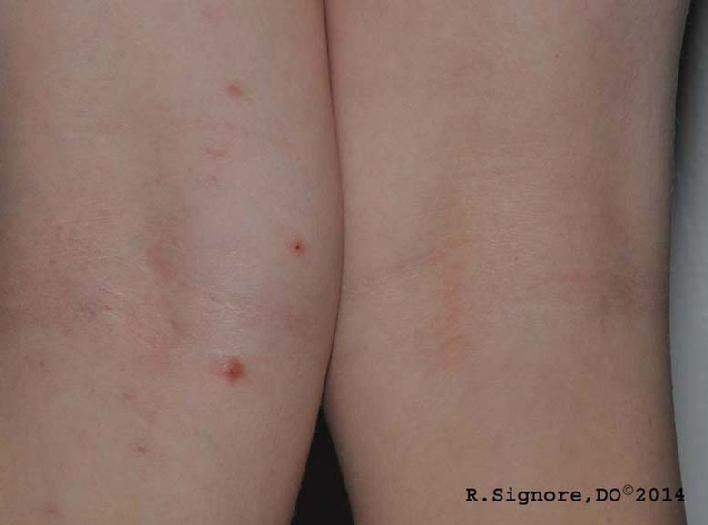 The above photo shows the same young child after beginning a homeopathic medicine, prescribed by Dr. Signore, which is derived from a mineral salt of sodium. Within one week of beginning this homeopathic remedy by mouth, his molluscum on his ankles and back completely disappeared! Shown here, his molluscum contagiousum on his leg were almost all gone.
After six weeks on this homeopathic remedy, Dr. Signore's patient's molluscum contagiosum infection is totally resolved. There were no side-effects of his homeopathic treatment. No other treatments or medicines were used besides his homeopathic remedy.
This gentleman came to Dr. Signore's Tinley Park dermatology office for

plantar warts

on the big toe. His plantar warts, shown in the above photo, were painful with walking. The patient requested treatment with natural homeopathic medicine because a relative had also been treated successfully by Dr. Signore with homeopathy. After taking a lengthy history, Dr. Signore prescribed this patient's

individually selected homeopathic remedy

which was derived from a mineral salt of sodium. The photo to the right shows his improvement after 18 weeks of treatment.




The above photo, taken after 18 weeks of homeopathic treatment, shows that

the plantar warts have completely resolved.

The pain with walking has completely resolved. His mood and energy have also improved.



Robert J. Signore, D.O., P.C.
Dermatology
17730-C Oak Park Avenue
Tinley Park, Illinois 60477
(708) 429-2992 Phone
(708) 429-3699 FAX

If you have a medical emergency, or your condition worsens,
go to an emergency room immediately, or call 911

©Copyright 2009-2023 Robert J. Signore, D.O., P.C. - All Rights Reserved