ATOPIC ECZEMA IN CHILDREN
To read Dr. Signore's article on the

NATURAL TREATMENT OF ECZEMA

which was published in the journal, Cosmetic Dermatology, please link to the publisher's official online article pdf:
https://www.mdedge.com/dermatology/article/70004/contact-dermatitis/classic-homeopathic-medicine-and-treatment-eczema-see
| | |
| --- | --- |
| This young child came to Dr. Signore's dermatology office with DRY, FLAKY, & CRACKED LIPS for as long as his parents could remember (SEE ABOVE PHOTO). They had to frequently apply Vaseline and lip balm. This child also had ATOPIC ECZEMA of his legs and trunk. His parents brought him in to be treated with HOMEOPATHIC MEDICINE for his eczema. Dr. Signore asked his parents many questions during his initial two hour homeopathic office visit. He was given his individualized CONSTITUTIONAL REMEDY based on his physical type, skin symptoms, and emotional / personality traits. He took his constitutional remedy by mouth once per day. | The photo above shows this same young child AFTER 9 WEEKS of taking his HOMEOPATHIC REMEDY. You can see his lips are SMOOTHER & his lips ARE NO LONGER CRACKED. His parents do not have to apply Vaseline or lip balm. (NOTE: NO topical steroids were used.) His ATOPIC ECZEMA on his legs and trunk are about 80% BETTER after 9 weeks of taking his HOMEOPATHIC CONSTITUTIONAL REMEDY. Also, this child's RESTLESS BEHAVIOR IN SCHOOL has IMPROVED since he began homeopathic medicine. Finally, this patient's MOLLUSCUM CONTAGIOSUM cleared up after taking his CONSTITUTIONAL HOMEOPATHIC TREATMENT. It is not uncommon for other seemingly unrelated medical issues to improve during homeopathic treatment. |
This is a young infant who was brought to Dr. Signore's dermatology office with ATOPIC ECZEMA (see above photo). His pediatrician had treated him with triamcinolone, a prescription steroid cream.
The above photo shows the same infant with ATOPIC ECZEMA after 20 weeks of natural homeopathic medicine, which he took by mouth. As you can see, his ECZEMA on his left leg is ALL CLEAR. Also, most of his eczema on his upper body is clear as well. The infant's mood has also improved. When treating ATOPIC ECZEMA patients with homeopathic medicine, IT IS IMPORTANT TO BEGIN TREATMENT AS SOON AS POSSIBLE. The YOUNGER the eczema patient is when they begin homeopathic treatment, THE MORE QUICKLY & MORE EASILY THEIR ECZEMA RESPONDS to treatment. Homeopathic medicine also may help REDUCE THE USE OF TOPICAL STEROIDS in ATOPIC ECZEMA patients.
| | |
| --- | --- |
| This 6 month old infant was diagnosed by Dr. Signore with ATOPIC ECZEMA (atopic dermatitis). Atopic eczema is an itchy skin disease which is commonly seen in infants and children. Atopic eczema is seen in about 3 percent of young children. Atopic eczema often BEGINS AT THREE MONTHS OF AGE, but it can occur sooner. There is NO CURE for eczema, but dermatologists have helpful treatments than can keep eczema under control. As children with ATOPIC ECZEMA get older, they often develop ASTHMA or ALLERGIC RHINITIS (Hayfever, Seasonal Allergies). Children with atopic eczema often have other family members with eczema, asthma, or allergies. | This same infant has ATOPIC ECZEMA on the right arm (shown above) as well as on the neck, other arm, and both legs. His eczema made him very itchy and uncomfortable. He was teething, and this made his eczema flare even more. Dr. Signore can treat eczema patients with conventional prescription steroid creams, but his parent chose CLASSICAL HOMEOPATHIC MEDICINE, a natural form of complementary medicine. During the NEXT FOUR MONTHS, Dr. Signore prescribed several homeopathic remedies and the patient's eczema slowly improved (SEE PHOTOS BELOW) |
| | |
| --- | --- |
| This is the SAME PATIENT, as seen above, FOUR MONTHS LATER. Dr. Signore started a new homeopathic remedy, which is derived from natural sea salt. After Dr. Signore was able to find his specific CONSTITUTIONAL HOMEOPATHIC REMEDY, his ATOPIC ECZEMA IMPROVED noticeably. You can see that his facial eczema is much better. His arms also improved (SEE PHOTO TO RIGHT), and eczema on the legs and neck cleared completely. The EARLIER children begin homeopathic therapy for eczema, the BETTER and more readily they respond. (NOTE: NO STEROIDS OR ANTIBIOTICS WERE PRESCRIBED.) PLEASE SEE LONG-TERM CLINICAL FOLLOW-UP PHOTOS BELOW: | This is the SAME INFANT, as seen above, FOUR MONTHS LATER. Notice his right arm eczema is MUCH IMPROVED with Dr. Signore's constitutional homeopathic remedy which he recent began. The eczema on the face, neck, and legs also improved considerably. Homeopathic medicine is a gentle and safe treatment for atopic eczema. But, it is important for parents to know that IT TAKES TIME for homeopathic medicine to work. His parents were very patient, and after four months of therapy, their infant's eczema was much better. PLEASE SEE LONG-TERM CLINICAL FOLLOW-UP PHOTOS BELOW: |
| | |
| --- | --- |
| This is the same patient - now he is 7 years old. Even though he finished his HOMEOPATHIC TREATMENT six years ago, note that his ECZEMA IS STILL ALL CLEAR. HIS ECZEMA HAS REMAINED CLEAR FOR THE PAST SIX YEARS! This demostrates that the results of homeopathic treatment of eczema CAN BE DURABLE. | This photo shows the same patient as seen above. He is now a healthy 7 year old boy. Even though his homeopathic medicine was finished at 12 months of age, note that his ECZEMA IS STILL ALL CLEAR! HIS ECZEMA HAS REMAINED CLEAR FOR THE PAST SIX YEARS! This demonstrates that THE RESULTS OF HOMEOPATHIC TREATMENT OF CHILDHOOD ECZEMA CAN BE DURABLE. |
Atopic eczema

(atopic dermatitis) is a common skin disease. It occurs in about 3 percent of young children. Atopic eczema usually begins at around 3 months of age, but it may start earlier. Children who suffer from eczema can have severe itching and their skin can get red and inflamed. Eczema skin can be wet and oozing (acute) or dry, thickened, and flaky (chronic). Most children with eczema have one or more family members with either eczema, asthma, or allergic rhinitis (eg. hayfever, seasonal allergies).

There is

no cure

for atopic eczema - only treatments that can

help control

it. When your child is diagnosed with atopic eczema, it's important to know that there is

no "quick fix"

for atopic eczema. It is a diagnosis that you and your child will most likely have to deal with for a number of months or even many years. Atopic eczema is a "long term" skin condition.

It takes time

before the child's skin symptoms improve, so it's important for parents to be patient.

In Dr. Signore's experience, persons suffering with

atopic eczema

tend to fall into

three groups

:
1) Those who have eczema for all of their life
2) Those whose eczema gets

somewhat better

in adulthood
3) Those who seem to

"outgrow" their eczema completely

as an adult

Children who have atopic eczema often have sensitive skin. They usually do better when they avoid the use of skin care products which contain perfumes or fragrances. In general, atopic eczema patients do well by

avoiding

excessive washing or bathing and by

only

using their soaps / cleansers on the odor-producing areas of the body (eg. the underarms, groin, buttocks, & feet). For cleansing eczema-prone areas, gentle cleansing with warm water and a soft cotton washcloth is usually sufficient.

While there is

no cure

for atopic eczema, there are many prescription creams and ointments, such as topical steroids, pimecrolimus, and tacrolimus, which Dr. Signore can prescribe to
help

control
it.

In additional to prescription treatments for eczema, Dr. Signore also offers

classical homeopathic medicine

for patients with

atopic eczema

. Homeopathic medicine is a valuable option for patients who wish to avoid the use of topical steroids and antibiotics in the treatment of eczema. The

earlier

in life homeopathic medicine is begun, the

more readily

eczema responds to therapy. For instance, the best time to begin homeopathic medicine for atopic eczema is as soon as it first starts in infancy, which is usually around the age 3 months old.

These photos demonstrate

how homeopathic medicine can be helpful in atopic eczema

, a condition which affects millions of people worldwide:


ATOPIC ECZEMA IN CHILDREN
This young child was seen in Dr. Signore's dermatology office for widespread ATOPIC ECZEMA. Her eczema itched so badly that it woke her up every night with terrible scratching episodes. Her skin began to itch whenever she was in contact with water (eg. bathing and swimming). Her skin also began itching when she was covered with too many sheets or blankets at bedtime. She was a very warm child and was never chilly. Her family wanted to try CLASSICAL HOMEOPATHIC MEDICINE for her eczema, because they wanted to treat it without having to use steroids. Dr. Signore asked numerous questions about the child. Based on these questions, he selected her INDIVIDUALIZED HOMEOPATHIC CONSTITUTIONAL REMEDY.
This is the SAME YOUNG CHILD after 13 weeks of taking her CONSTITUTIONAL HOMEOPATHIC REMEDY by mouth three times per week. As you can see, her ATOPIC ECZEMA is about 60% IMPROVED. Her skin is much softer and less thickened. She is much less itchy & she can sleep through the entire night! Since beginning her classical homeopathic medicine, her constipation has improved greatly and she is also less thirsty. IT IS COMMON FOR OTHER MEDICAL ISSUES TO IMPROVE when dermatology patients are treated with classical homeopathic medicine for their skin issues. This patient's mother only needed to apply a low potency steroid ONLY ONCE in the last 13 weeks since beginning her homeopathic remedy. When the correct homeopathic remedy is found, the use of topical steroids CAN OFTEN BE GREATLY REDUCED.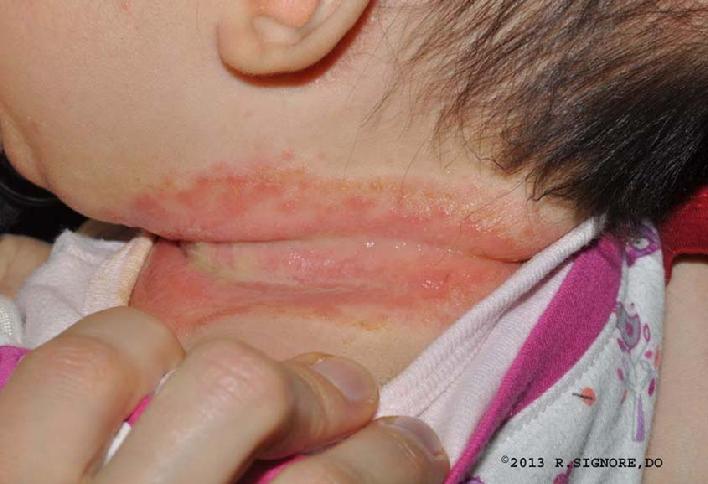 The infant in the above photo was brought to Dr. Signore's dermatology office with a widespread red and scaly rash on the scalp, neck, underarms, and legs. She was diagnosed with ATOPIC ECZEMA by Dr. Signore. The rash on the neck had a yellow thick drainage which soaked through her clothes. The parent requested natural homeopathic treatment. Dr. Signore took an extended history and first prescribed a homeopathic remedy which matched the infant's unusual skin drainage. Dr. Signore selected her homeopathic remedy based on this patient's unique and characteristic symptoms. (The homeopathic remedy selected was derived from natural carbon). TEN DAYS LATER, the YELLOW DRAINAGE WAS MUCH IMPROVED. Dr. Signore then prescribed another homeopathic remedy (made from natural sea salt). The homeopathic remedies were given by mouth, were easy to swallow, and tasted pleasant to the infant. The PHOTO BELOW shows this same infant THREE MONTHS LATER when her eczema has CLEARED UP.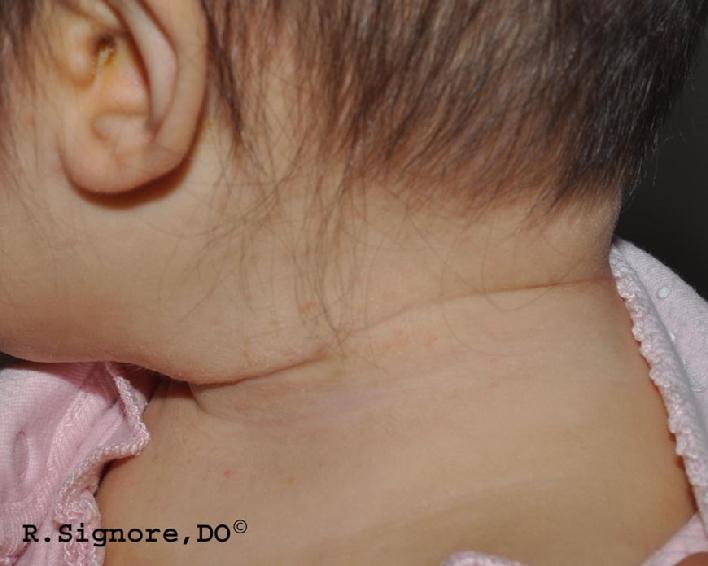 This is the same infant, shown above, after THREE MONTHS of homeopathic natural treatment. The patient's ECZEMA ON THE NECK has healed nicely. Notice that the EZCEMA BEHIND THE EAR and on the SCALP has also HEALED. Her SLEEP AT NIGHT HAS ALSO IMPROVED & she WAKES UP MUCH LESS FREQUENTLY. (Note: NO STEROIDS, ANTIFUNGALS, OR ANTIBIOTICS WERE USED.) NOTE: I SPOKE TO THIS PATIENT'S MOTHER SEVEN YEARS AFTER THIS FINAL PHOTO WAS TAKEN. THIS PATIENT'S MOTHER STATED THAT, EVEN SEVEN YEARS LATER, THIS PATIENT'S ECZEMA STILL HAS NOT RECURRED!
To read Dr. Signore's published article on the

natural treatment of eczema with homeopathic medicines

, you can go to:
https://www.scribd.com/document/317426732/Signore
Robert J. Signore, D.O., P.C.
Dermatology
17730-C Oak Park Avenue
Tinley Park, Illinois 60477
(708) 429-2992 Phone
(708) 429-3699 FAX

If you have a medical emergency, or your condition worsens,
go to an emergency room immediately, or call 911

©Copyright 2009-2023 Robert J. Signore, D.O., P.C. - All Rights Reserved